Soaps: I love the Activated Charcoal, Tea Tree Facial Bar by Aunti Zibbas Handcrafted Soap, and Cornerstone Soapworks also has deliciously fragrant homemade soaps. I've used so many products over the years, but nothing keeps the bacteria at bay without drying out my skin like activated charcoal and tea-tree soap. The soap lasts a long time and is effective for deep cleaning without the harsh chemicals.
Shampoo: In case you aren't picking up on this tidbit yet, I have sensitive skin. I use fragrance- and dye-free laundry detergents and dryer sheets. I can't wear a lot of perfumes. In similar fashion, my scalp gets easily irritated, and I have found tea tree and mint does the best by me: you can find this product at Wal-mart for right under $7.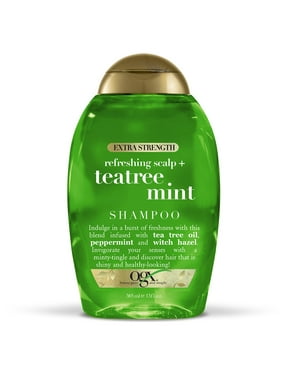 Foundation: Ecco Bella FlowerColor does run a little higher than say Maybelline, but it doesn't have the toxic chemicals, parabens, and irritants that other foundations may carry. It's helped even out my skin tone. If you purchase off of Vitacost.com today and use the code PRETTY, you get 20% off.
Deodorant: For some sweet ladies, a puff of baby powder is sufficient, but not me. I'm a sweater. Doesn't matter if I'm working out, shopping, or sitting in church, winter, spring or summer, my pits are usually juicing. Since college, I've tried to get away from antiperspirants and the toxic chemicals in most products. I've tried everything from Tom's of Maine to Crystal Mineral Sticks. For some, these stink-suppressors work great, but those people don't have my hormones. The Crystal method ran effective for my dad, but for me, it left a red rash that burned to high heaven. Perhaps I wasn't using it properly. Schmidt's Natural Mineral-Enriched Charcoal-Magnesium runs a littler higher than the standard "natural" deodorants ($9), but it's far more effective for me. Before I had to use a deodorant plus baking soda to stay dry and fresh. A few swipes of Schmidt's and I'm good to go.

Antibiotics: Sometimes our bodies need a high-powered antibiotic, but too frequently, we are quick to ingest one, stripping our bodies of the much-needed good bacterias as well. Again, I am not a doctor, and am not trying to replace seeking a professional opinion when need be, but I will give you two natural antibiotic substitutes that have helped clear up infections, bacterial issues, UTI's, ear infections, and other minor problems. Collodial Silver (10ppm)
Most of these products I get at a discounted rate from Vitacost.com. Frequently, they give out coupon codes for percentages off products as well.
Of course, some of the best things you can do for clean skin and body involves breathing fresh air, soaking up sunshine, drinking plenty of water, exercising, and avoiding sugar and processed foods.
Disclaimer: I am not a physician, nor have I participated in clinical research. Products used were not given for analysis or review and results for each individual will vary. I am not liable for any adverse reactions that may occur.