I'm a part of a group on Facebook that includes a variety of people from the state (different backgrounds, beliefs, and boundaries). The discussion circulating the COVID-19 situation in our state brought this man to share: "You know since I was a kid my religious neighbors were always going on about the rapture. Always saying when my maker calls me home I'm ready. Then there's this and they're all hiding under their beds. What happened to being ready?" And I cringed inside. I gently shared with him that not all Christians are hiding or even afraid: many of us aren't. But what does closed church doors communicate? Does he see believers acting much differently than the world at large? Probably not. This corona virus situation grieves me for a whole spectrum of reasons (some religious, some political, some personal), but regardless of where you stand on the COVID-19 debate, I pray that we as believers all lean into what God wants to teach us and don't allow the lies of the Enemy or the fear of the world to anchor our thoughts.
First off, I'm not afraid to die. And as much as I would grieve deeply over the loss of a family member or friend, if they are in Christ, I am not afraid of them going Home. I have many friends (some young, some more in the "vulnerable" range) that are not afraid either. They are taking precautions but they are still living life and seeing people and not ostracizing others like they belong to a leper colony.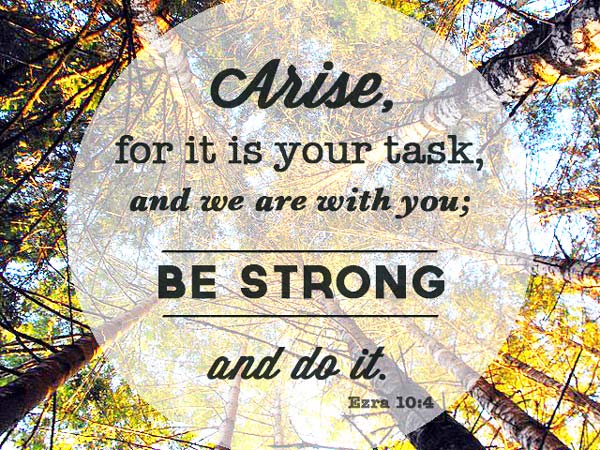 God's power casts out fear. The same power that raised Jesus from the dead is living within me. His perfect love casts out all fear, so I don't have to go around wringing my hands and wondering what the future will hold, because He holds the future and He is always trustworthy and good. "So do not fear, for I am with you; do not be dismayed, for I am your God. I will strengthen you and help you; I will uphold you with my righteous right hand." Is 41:10 Does the world look at the Christian next door and think, "huh, they aren't acting any differently than I am. I guess they don't really have the hope or brave assurance they claim." Let it not be so. Let the power, peace, and presence of God's Spirit reign supreme in us.
God's power casts out a spirit of self-preservation. The Lord did not save me and then leave me on this planet to put myself in a protective little bubble, looking out only for me and mine. He did say to die to self, love the outcasts and unwanted, give to those who can't give back, forgive enemies, and to expect turmoil and trials. We shouldn't run from them or try to cushion our lives in comfort until He returns. We are here for His glory and the loving salvation of others. "They triumphed over him by the blood of the Lamb and by the word of their testimony; they did not love their lives so much as to shrink from death." Revelation 12:11 Some people will argue that it's selfish to get out and reach out. First off, we aren't guaranteed safety in any capacity. Leaving my house could jeopardize my children or neighbor. We could be in a car wreck (an estimated 38,000 people died in car accidents last year), I could get bit by a poisonous snake (my brother sure has) or a venomous spider (mom has too). I could be killed in a tornado or get the flu and die from that (CDC estimates that 80,000 people died from it in the US this past winter). I could get COVID-19, but I have a 96% chance of surviving and thriving. And if I was ill, I would stay home and keep my family at home for at least two weeks. But should everyone stay home? Those who are fearful and vulnerable should stay home, but should everyone's freedoms be limited to house arrest? Let's look at some other statistics–those circulating around depression and suicide rates because of isolation and job loss. Let's look at the child-abuse rates because the children are stuck at home with their abuser. Let's look at the fearful and alone and concern ourselves with them just as much, if not more than the physically vulnerable. For their situation has far less hope.
God's power casts out a temporary mindset and helps us set our minds on eternity. We should do what we can do protect and love our neighbors' physical bodies, absolutely yes, but if we fail to love their eternal souls and neglect speaking into their spirits, they are just living death until they die. Matt. 10:28 "Do not be afraid of those who kill the body but cannot kill the soul. Rather, be afraid of the One who can destroy both soul and body in hell." The due wage for our sinful fallen state is eternal death and separation from our Creator Father, but the gift of God is eternal life through Jesus" (Romans 6:23). We as believers in Christ have a duty–a Great Commission–to share this wonderful news. "But how can they call on him to save them unless they believe in him? And how can they believe in him if they have never heard about him? And how can they hear about him unless someone tells them?" (Romans 10:14). We are a city on a hill and should not hide our light (Matt. 5:14), but should be willing to risk our own temporary world for the salvation and renewal of the lost souls around us. Matt 6:19-21, ""Do not lay up for yourselves treasures on earth, where moth and rust destroy and where thieves break in and steal, but lay up for yourselves treasures in heaven, where neither moth nor rust destroys and where thieves do not break in and steal. For where your treasure is, there your heart will be also." Let them see an eternal joy and assurance that no matter what this life throws we have a secure heavenly Home awaiting us, one we are not afraid to face.
Perhaps some of you reading this post will feel angry. You are free to feel angry, and I'm sure I will be judged and misunderstood. But let me encourage you with this challenge. Let's be discerning and critical thinkers. Let's assess situations in light of facts and truth and God's missional purpose over our lives. Let's not fall into the logical fallacies of extremes and shout either/or dilemmas. Let's not let fear anchor our beliefs or choices. Let's remember Who our great God is and why we, His children, are here.