I don't know when I started consciously verbalizing this prayer, but "Come, Lord, Jesus. Bring revival" has stirred my heart for some time. I know that echoes the prayer of many believers. As the year progresses and we see evil increase, our discernment and desire should rise as well. Last year I read a Tony Evan's book to the kids on the Armor of God and the vital importance to step into each day aware and prepared. The battle rages on whether we acknowledge it. So, let's set our hearts and minds on the table of sacrifice and ask God to examine us fully: what in us is leading us away?
Are we asking the right questions? Here's what the disciples asked Jesus one day.
"As Jesus was sitting on the Mount of Olives, the disciples came to him privately. "Tell us," they said, "when will this happen, and what will be the sign of your coming and of the end of the age?"
4 Jesus answered: "Watch out that no one deceives you. 5 For many will come in my name, claiming, 'I am the Messiah,' and will deceive many. 6 You will hear of wars and rumors of wars, but see to it that you are not alarmed. Such things must happen, but the end is still to come. 7 Nation will rise against nation, and kingdom against kingdom. There will be famines and earthquakes in various places. 8 All these are the beginning of birth pains.
9 "Then you will be handed over to be persecuted and put to death, and you will be hated by all nations because of me. 10 At that time many will turn away from the faith and will betray and hate each other, 11 and many false prophets will appear and deceive many people. 12 Because of the increase of wickedness, the love of most will grow cold, 13 but the one who stands firm to the end will be saved." (Matthew 24).
"But understand this, that in the last days there will come times of difficulty. For people will be lovers of self, lovers of money, proud, arrogant, abusive, disobedient to their parents, ungrateful, unholy, heartless, unappeasable, slanderous, without self-control, brutal, not loving good, treacherous, reckless, swollen with conceit, lovers of pleasure rather than lovers of God, having the appearance of godliness, but denying its power. Avoid such people." (2 Timothy 3:1-5)
We know that as the time draws closer for Jesus to return, the heat of debate, hate, and selfishness will erupt like volcanoes, spewing ash and flame. Satan knows his time draws short and his anger and vengeance will rage (Romans 12:12). The time of comfortable Christianity will become a thing of the past. So, let's get off the fence, out of the chair, and suit up.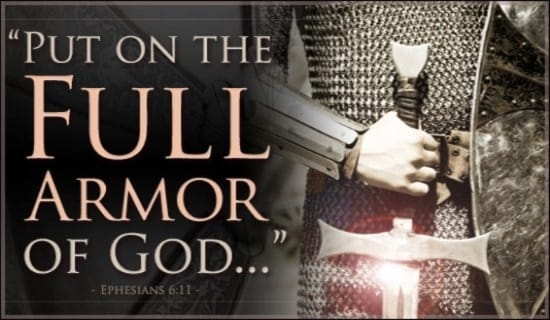 "If my people [That's you, Church],
who are called by my name [Those who should be listening to His voice and following His direction]
humble themselves [God, it's not about us. It's about you. Forgive us for our idolatry],
and pray and seek my face [not His hands, not His gifts, not His blessing, but His face–with reverence and adoration]
and turn from their wicked ways [how many wicked ways of the world has the Church allowed to influence their hearts?],
then I will hear from heaven and will forgive their sin and heal their land (2 Chronicles 7:14, inserted comments mine).

And the Best is Yet to Come as Well
Lest you start to despair or panic, our eternal peace is secure, Church. Be aware of what Jesus promised would come, but don't allow fear to reign. We don't have to anticipate with anxiety; we can hold on with hope. No matter what we may endure in this life, our forever home and rest is unchanging. God's promises of love, peace, presence, and grace won't leave. Nothing can separate us from it: not pandemics, politics, finances, fears, cancer, or criticism. He holds you dear, Bride of Christ. And one day HE IS coming back for you, for me, for us.
"And it shall come to pass afterward, that I will pour out my Spirit on all flesh; your sons and your daughters shall prophesy, your old men shall dream dreams, and your young men shall see visions. Even on the male and female servants in those days I will pour out my Spirit. "And I will show wonders in the heavens and on the earth, blood and fire and columns of smoke. The sun shall be turned to darkness, and the moon to blood, before the great and awesome day of the Lord comes. And it shall come to pass that everyone who calls on the name of the Lord shall be saved. For in Mount Zion and in Jerusalem there shall be those who escape, as the Lord has said, and among the survivors shall be those whom the Lord calls." (Joel 2:28-32).
Starting on September 19th, you can join the International Global Upper Room for ten days of prayer, fasting, and worship. May we unite to seek the Lord's face and request that His Spirit would pour out on us in abundant and revolutionary ways. Go to 10days.net for more information about this movement.
No matter what war, famine, or tribulation hits our world, in the midst of disaster there are always those providing disaster relief. May we remain the city on a hill, a light to the world, and the hope of the nations.